I just finished reading Barbara Kingsolver's amazing novel, The Poisonwood Bible. It has been on my shelf to read for years, and I am so glad I finally read it! Last year, several of my students read it as part of their Independent Reading projects for my AP Literature class and suggested that I add it to the choices for summer AP reading. I took their advice (they are really smart kids, after all!) and then because I added it to the summer reading list, I needed to read it too. The novel is the story of the Price family and their mission trip to the Congo in the 1960s. Nathan Price is a Baptist minister on a mission to bring Christianity to the Congo. He and his wife and four daughters move to Africa for a one year mission trip. But, as Brother Fowles once said, "there are Christians, and there are Christians" (435). The story is told in alternating chapters from the point of view of Orleanna Price (the mother) and the four Price daughters: Rachel, Leah, Adah, and Ruth May, and follows the family for more than thirty years. The novel provides a poignant and intelligent look at the complicated effects of colonialism and imperial rule on modern day Africa. Ironically, Rachel, the most shallow of the characters sums it up best when she says, "You can't just sashay into the jungle aiming to change it all over to the Christian style, without expecting the jungle to change you right back" (515).
This is only the second book I have read about Africa. The other, Things Fall Apart, by Chinua Achebe, is a book that I have taught for years to 10th and 11th grade students, and is one of my favorites. Barbara Kingsolver said that she used Achebe's book as a source for writing The Poisonwood Bible. I would like to read more books about Africa. Any suggestions?
Now that I have finished a kind of "heavy" book, I need to jump back into my favorite genre: mystery! I have three books sitting next to me, and I can't decide which one to start.
The first choice is Faithful Place, by Tana French. I posted about Tana French's first two books back in June. I love her books! The back cover of this one says it is her best book yet. The teaser on the back of the book says: "Back in 1985, Frank Mackey was a nineteen-year-old kid with a dream of escaping his family's cramped flat on Faithful Place and running away to London with his girl, Rosie Daly. But on the night they were supposed to leave, Rosie didn't show... Then, twenty-two years later, Rosie's suitcase shows up behind a fireplace in a derelict house on Faithful Place, and Frank, now a detective in the Dublin Undercover squad, is going home whether he likes it or not."
The second choice is a book called Still Life, by Louise Penny, and is the "First Chief Inspector Gamache Novel." I LOVE series mysteries, so this one holds expectation and promise. The description on the back of this book says: "Chief Inspector Armand Gamache and his team of investigators are called to the scene of a suspicious death in a rural village south of Montreal and yet a world away. Jane Neal, a local fixture in the tiny hamlet of Three Pines, has been found dead in the woods on Thanksgiving morning. The locals are certain it's a tragic hunting accident and nothing more, but Gamache smells something foul this holiday season..."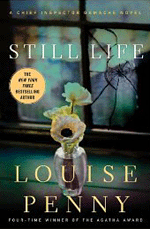 Wow, I just went to Louise Penny's website to get a picture of the book (mine has a different cover, and I could not find a picture of it!) and man is she popular. Her books all get amazing reviews. There are six books in the Chief Inspector Gamache series. The latest just came out in paperback, Bury Your Dead, and is getting rave reviews. Very tempting!
The third book is another mystery called The September Society, by Charles Finch. The Library Journal said: "Even the most astute reader will be guessing to the end. Another triumph." This book's description reads: "In the small hours of the morning one fall day in 1866, a frantic widow visits detective Charles Lenox. Lady Annabelle's problem is simple: her beloved son, George, has vanished from his room at Oxford. When Lenox visits his alma mater to investigate he discovers a series of bizarre clues, including a murdered cat and a card cryptically referring to "The September Society." Then, just as Lenox realizes that the case may be deeper than it appears, a student dies, the victim of foul play..."
Okay, I just may have eliminated The September Society, which is kind of too bad because I was leaning toward it as it is now September and so it sounded seasonal. When I was looking for a picture of the cover, I realized that this is the second book in the Charles Lenox detective series. The first is called A Beautiful Blue Death, and it was nominated for an Agatha Award. For those of you who read detective mystery series, you know that you don't have to read them in order, but that the character development is better if you start at the beginning. So, I will have to get a copy of A Beautiful Blue Death and start there.
After writing about all three, I have decided to read Faithful Place. I think I will leave the Chief Inspector Gamache one for closer to Thanksgiving, since it takes place at that time, and I will hold off on the Charles Lenox one until I read the first in the series.
What books are you reading right now? Anything good?